Register Today
If you have prescriptions with our pharmacy, take a few minutes and register online so that you have access to your prescriptions online. register »
Review Online
Once registered and authenticated your account, you can review your prescriptions, drug information and can see all the information pertaining to your prescribing doctor.
Easy Refilling
After reviewing your prescriptions, you can mark prescriptions to send a refill request online. Securely refill prescriptions online. It can't get any easier.
Welcome to Anderson Pharmacy
It is our commitment to provide you with exceptional service both in the pharmacy and online.
We are pleased to announce that you can now access your prescriptions online - 24/7!
What does that mean to you?
No need to wait in lines to refill your prescriptions.
View and refill your prescriptions in the comfort of your home or office.
How much does it cost?
Absolutely FREE!
How do I get started?
Click on Register and begin the registration process. It's just that easy!
Our Services
Influenza, Shingle and Pneumonia Vaccinations
Prescription Delivery*
Blood Pressure Screening
Digital Photo Processing
Balloon Bouquets
UPS Shipping
Dry Cleaning Drop Off
Faxing/Copying Documents
*We offer no cost delivery to Preston, Miles, and Spragueville areas on Tuesdays and Thursdays.
Our Products
Durable Medical Equipment including: walkers, canes, crutches, wheel chairs, commodes, bath benches, stool risers, grab bars, nebulizers, and more.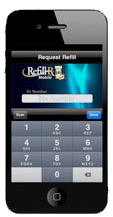 Refill your prescriptions on the go.
We also support RefillRx Mobile to provide you with a one tap solution for refilling your prescriptions. Simply scan the barcode on your bottle and watch as RefillRx Mobile sends your request to our pharmacy.
If a barcode is not available you can also simply enter the Rx number for your prescription and search for our pharmacy by entering (563)689-3301.
Download RefillRx Mobile Today!
iPhone Link
Android Link
Please note: We are not a mail order or internet pharmacy!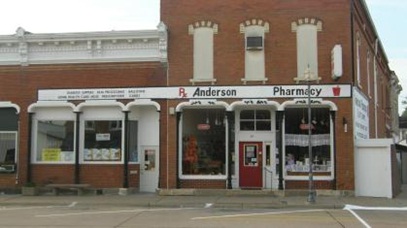 Our Hours
Open Monday through Friday
7:30 a.m. - 6:30 p.m.
Saturday
8:00 a.m. - 5:00 p.m.
Sunday - Closed
Our Location
Our Philosophy
"Where our patients come first!"
~Anderson Pharmacy
Get in touch!

We love to hear from you!
Address: 61 W. Gillet St
PO Box 40
Preston, IA 52069

Telephone: (563) 689 - 3301
After Hours Phone: (563) 689-3301
Ken's Cell : (563) 593-0761
FAX: (563) 689 - 3303
E-mail: ken@andersonrx.com